Ironman 70.3 Mallorca
Maciej Zieliński
11th of May 2019. Following two previous years and starts in that great race, came a time to challenge myself a little bit. Goal: sub 6hours!
IM70.3 Mallorca 2017- 6hrs 45mins
IM70.3 Mallorca 2018- 6hrs 28mins
So, everything really fast started over two years ago when I've signed up for first race in Mallorca! First two races were tough. Everything I had problems with cramps, hydration and overall exhaustion although enjoying them highly!
This year it was different story. It was two of us. Slawek and me. TriathlonNITeam at its best!
My race had started long time before. Switching my diet and nutrition to where it should be (trying to avoid cramps). In top of that starting 16 weeks training plan. 10 hours, 9 sessions and 6 days a week. Finally doing it right! Due to minor issues and shortage of time, I've missed single sessions and had to stop gym session in half way. So, when arrived to Alcudia I felt ready!
Taper week felt good and easy with every day closer to the race.
The race was on Saturday so, Friday was bigger check in day. On the way I've got flat tyre (!). I've decided to go to bike service and just in case check my bike throughout. Imagine how surprised I was when I was stopped at the check in as my front column was loosened. Luckily at the check-in there was a service point for quick works. All was easy to fix! Then I was able to check in, no any more issues! I was sure that Ive exhausted all bad luck for a race!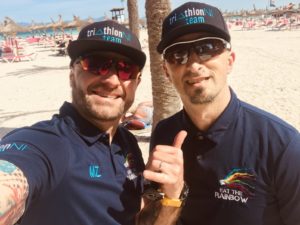 Race day!
Wake up time: 5:45am, toilet, breakfast, and pack nutrition for the race and go out 6:15am. Transition was opened at 6:30am. We got there short after that. We've checked bikes, tyres' pressure and mount/packed our drinks and nutrition. Then checks bags with stuff for bike (socks, shoes, sunglasses, helmet) and run (socks, shoes and hat). All were ready! Time to out wetsuit on, pack street wear and put bag to deposit. Before start we had time for some last sips of energy and electrolytes. Check all, put goggles on and get to start line.
We've got in our waves and it has started!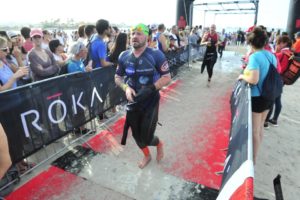 Swim
I've got my new wetsuit and giggles working well (got couple swims to get used to them before race). I felt good so kept going in my rythm nice and easy, using that time to mentally get ready for bike and run. Like meditation. And getting to exit and transition area keeping pace. So far so good! Through beach and showers get to bike's stuff, took wetsuit off, goggles and hat. Put helmet, shoes and sunglasses on. Wet stuff packed into a bag. Time to take bike and off I go!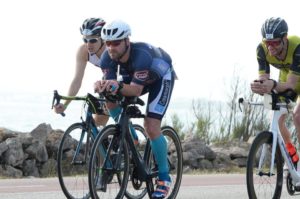 Bike
That part starts with easy ride for first 10km then it starts to raise. Which leads to climb. Pedal after pedal up to the top. Last couple races I had bad back pains at the begining of climbs already… And legs cramps after downhills… It wasn't a case this time! I've start feeling a little discomfort at the top but that's it… Most important thing, no cramps! At the downhill I've missed breaking point (at the first turn) and went out of the road… Luckily I've missed other triathlete (!) by couple of centimeters… and went out into woods… I've managed to get back and continue little bit easier for rest of bike course! No more silly mistakes! I feel like it was good, steady ride. Got to transition to leave a bike and change for run. Again, bike stuff off and running on. Before start the run quick stop for toilet… And ready to go!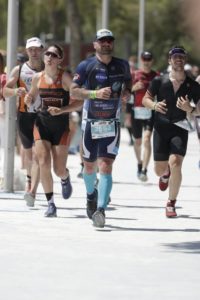 Run
Throughout the race I was worrying only about heat. Sun up, and temperature little bit higher than in Belfast 😉 Somewhere around half of my run, I've started to feel it. But all nutrition strategy and previous fueling were working great. Keeping myself cool I've used water at Thebaid stations to cook down. Only thing was that my socks got wet and I've got little blister in my midfoot. Luckily nothing serious and I was able to continue (even if not DNF is not an option). Other thing is that I had to get another quick break for toilet… I've stocked in que! Oh well. Then it was straight route to finish line! I was so pumped at the finish line!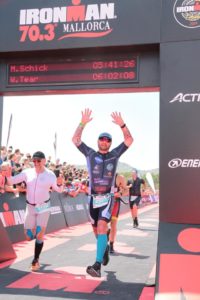 My goal, sub 6hours. I've done it in 5h53m15s Couldn't be happier!
After 3 races on Mallorca it's time to change location! We're thinking to be back to IM70.3 Gdynia in Poland, IM70.3 Marrakesh or IM70.3 Turkey. Trying to get one that would collide with boys school and gives us chance for family holidays afterwards! Can't wait to next challenge. Or maybe take it to another level and go for IRONMAN race? Well, who knows?
Using that opportunity I'd like to ask you to sponsor #TriathlonNITeam that races for Snowflakes Belfast. All money will be spend on sport's programme for children with autism. Click on the link and support us, please!
https://www.justgiving.com/crowdfunding/triathlonniteam4snowflakes?utm_id=125
We'd like to thank #TriathlonNITeamSponsors for make it possible! Arroll Ltd., Ricky Ducket Fortwilliam Golf Centre, Eat the Rainbow by Marta, PC Belfast Computer Service and Repair, Mana-Art Mariusz Pacholak