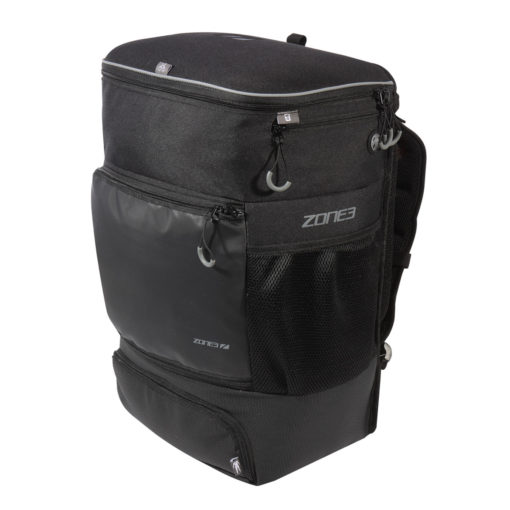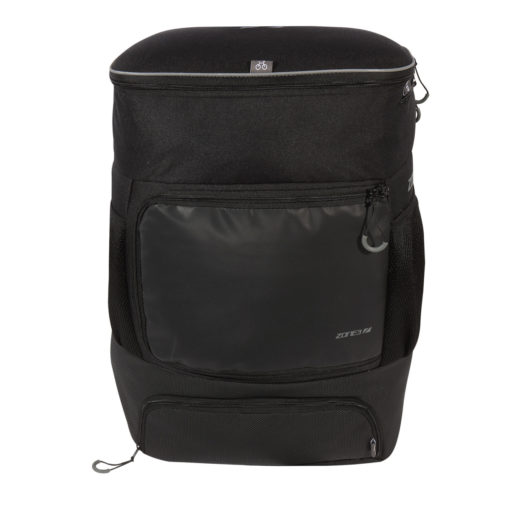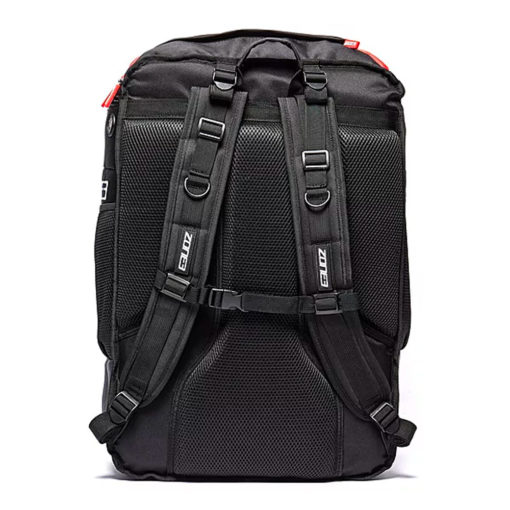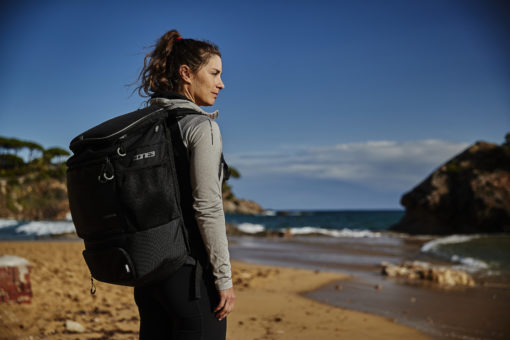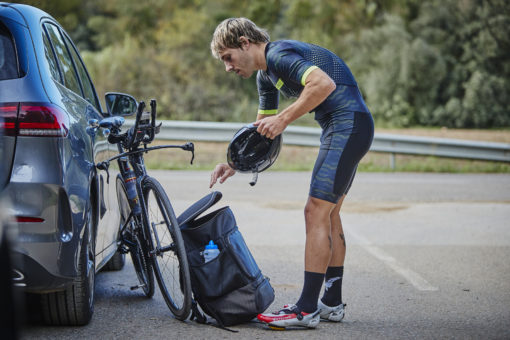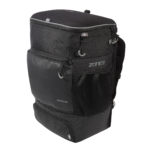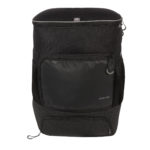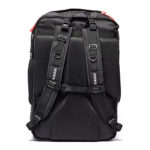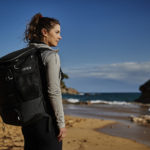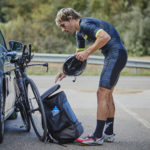 Zone3 Transition Backpack with EVA Cycle Helmet Compartment
Description
Transition Backpack with EVA Cycle Helmet Compartment
What makes this product stand out:
Double winner of the 220 Triathlon Best on Test award & Best Value award
40 litres of triathlon specific and carry-on friendly storage.
Waterproof wetsuit/swimwear storage.
EVA padded helmet compartment for protection
Waterproof front panel and reflective gunmetal logos and piping
Padded straps and back panel for extra comfort.
Introduction:
Triathlon is a sport of preparation and dedication, our long hours of training, our financial outlays, our nutrition and our equipment; yet for some reason we still use carrier bags for wet swimwear and bring our race kit to events in a Swedish furniture shop bag! It's time to bring that tri mindset to your bags.
We created the Transition Backpack to make your training, racing and commuting life simpler and address some of our key annoyances with kit bags, some of which we are sure you share. Bags were either huge, or too small, everything got wet from our swim kit, small items such as phones and goggles got lost at the bottom of the bag and multi compartment bags would fall over unless every compartment was full. The sturdy Transition Backpack solves these issues with discipline specific compartments with their own zip openings and a wealth of accessory pockets for phones, goggles and drinks bottles.
The multi award winning Zone3 Transition Bag has been carefully engineered to fit all your triathlon gear into one stylish and comfortable product, meaning less to worry about come race day. Given a 90% rating and described as 'brilliant' by 220 Magazine. With 3 main sections to accommodate the 3 disciplines, the bag has a wealth of purpose-built features outlined below:
Key Features:
Waterproof Bottom Compartment
With a fully waterproof & flexible inner lining and durable outer fabric, the wetsuit storage area makes the ideal place to store your Zone3 wetsuit when travelling to and from events and training. Made with some of the most advanced waterproof fabrics around, the inner lining not only makes sure the rest of the bag stays dry, but also folds flat when not in use to further expand the main compartment. The outside of the compartment features a tough and durable material designed to withstand everyday wear and tear and all-weather conditions.
Large Main Compartment
The workhorse of the bag is the main central compartment for storing your tri and casual clothes, shoes and anything else you can think of. Internal pockets found on the back of the opening provide convenient storage for goggles and keys, as well as a removal waterproof pouch, giving you extra wet dry storage, or somewhere to keep your race day documents, or nutrition.
For those big days away from the pool the central compartment is also designed to expand into the wetsuit storage area when it's empty.
EVA Foam Padded Top Compartment
The padded top compartment keeps your run shoes and helmet safe, as well as away from your clean and wet kit, meaning no more mud transfer from your shoes, or keys scratching your helmet. There is also a built-in phone pouch with earphone outlet for easy on the go access to your music.
External Features:
There with two large mesh pockets for drinks bottles, giving you easy access and preventing leaky bottle mishaps.
Great features can be undone if a backpack isn't comfortable to use, to address that we have included padded and breathable straps, and a back panel, as well as a chest strap for added comfort on the move.
Here is a summary of the main features:
Bottom Compartment:
Outside: 100% waterproof and durable exterior material.
Inside: Expanding 100% PU coated waterproof lining material with thermo-bonded seams.
Suitable for a wetsuit, Tri suit and other small items.
Middle Compartment:
Inside: Zipped mesh pocket for goggles and accessories
Inside: 100% waterproof removable PVC wallets for small valuable items.
Inside: Back of flap features mesh pocket for race numbers and information.
Outside: Two large, soft mesh pockets perfect for drinks bottles.
Suitable for shoes, clothing, towels, accessories, drinks.
Top Compartment:
Inside: Soft and flexible mesh lining
Inside: Back of flap features mesh pocket for race nutrition.
Outside: Moulded EVA top for protection.
Outside: Reflective piping around the top for improved visibility during low light levels.
Outside: A fleeced music device pocket with earphone outlet
Outside: Top flap pocket for items which need to be accessed regularly, passports etc.
Suitable for helmet, run shoes or other accessories.
Other features:
Padded back panel using 3cm thick foam with breathable mesh material casing for comfort and cooling.
Padded shoulder straps
Chest straps for tighter fit when needed on the move
Option to strap helmet on to shoulder straps plastic D-rings during transport.
Durable carrying handle.
Strong zips with Zone3 branded silicone zip pullers.
Zone3 reflective logos
Height 53cm, width 22 cm and length 34.5cm.
The bag has a total capacity of 40 litres.