Carrickfergus Castle Triathlon
Maciej Zieliński
Second edition of great event. End of June means it's time for Carrickfergus Castle Triathlon. This year it was Slawek and Maciek taking a part as TriathlonNITeam in that great race.
This year our sponsor Eat the Rainbow was a sponsor of Carrickfergus Castle Triathlon Try-a-Tri distance.
Everything started straight after our last race in May… Actually stopped. Everything went out of order – training, nutrition, routine… So, we had no expectations for that race at all. And in top of that we were worrying about weather. Weeks before race were awful – rain, wind, clouds and cold. Not great for triathlon.
So, briefing was set up at 8:15am and start on at 9:00am. All set up and ready. Sunday morning was rather nice and warm… and windy. Only thing that water looked choppy and that wasn't great. Set up at the transition was tricky as well due to wind but manageable 🙂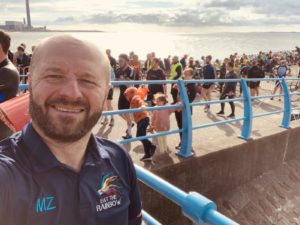 Water wasn't bad at the start. Not cold and not so choppy at the start. Waves and wing hit at the second half of the swim. First time I've started to feel a little bit dizzy… Tried to managed that with easy swim and breathing. Alternating breath side did a job. I need to admit that it was first time that my swim wasn't easy and I felt a little bit over the place…
Bike time! Transition on the Fisherman's Quay was tricky. Narrow and windy. Everyone started focused and careful. My ride was steady. I didn't want to go to strong due to lack of training. So, went from T1 to T2 steady. Still feel little bit heavy and rusty on the go :/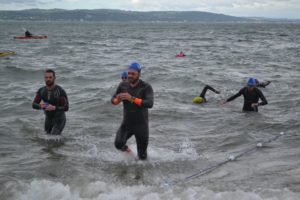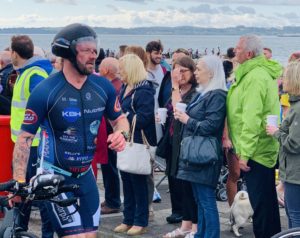 On the run I just got in to a pace and tried to keep it, enjoy the crowd – which as last year was impressive. It's really nice to race when there are a people cheering around that's awesome.
At the end of run Slawek joined me and we finished together.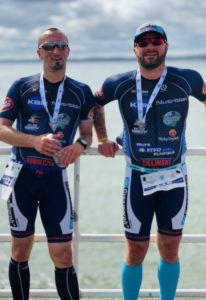 Second edition of Carrickfergus Castle Triathlon showed that it's possible to keep events on top. We'll organised and kept going race. One of those must take part in. I've enjoyed every second of it and can't wait for ntil next year race!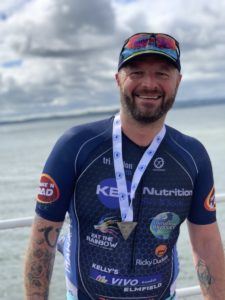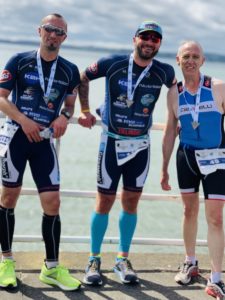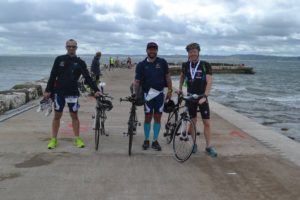 Thank you Carrickfergus Castle Triathlon for having us!